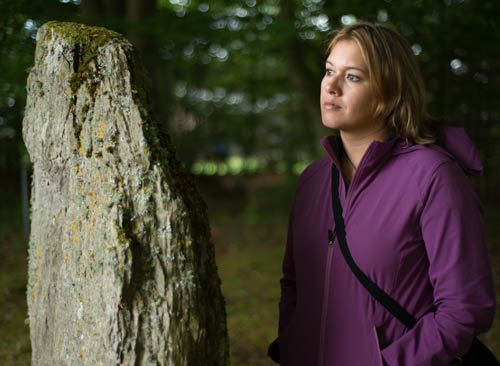 Tess Burningham began her love/hate relationship with writing at the tender age of ten, when she wrote 100 pages of a fantasy novel (that will never be seen!).  It seemed putting stories onto paper was her greatest talent, but Tess spent many years trying to deny it.  As a teenager she dreamed of acting, only to never land the leading role.  To add to her frustrations, every short story she wrote would go on to win awards all over the state.  As Tess moved into her twenties, she realized her acting talent was none too special – but didn't realize her writing talent was.
Still enamored by stories of adventure and exploration, Tess studied marine archaeology at UC Berkeley with an emphasis on Near Eastern cultures in the early to late Bronze Age.  During this time she didn't write a word of fiction, and after graduating with highest honors, she set out to live her own adventures rather than write them.
Since 70% of the world is covered in water, any true explorer would learn to travel its depths.  As an advanced Naui diver, Tess navigated old shipwrecks on the ocean floor, the immense kelp forests off the Channel Islands of California, and the legendary Cenote caverns of the Yucatan.   She even had a friendly encounter with a Great White shark at one point, too.
She lived in Israel in 2004, excavating a Roman palace from 200 AD.  She traveled the expansive fjords of Norway, castle hopped from Wales to the Rhineland, climbed the peaks of active volcanoes, and explored the funeral complexes along the Nile in Egypt.  Over these many years she never picked up the pen, but stories began to beckon to her, though she still denied her calling as a writer.
Instead, she returned to academia, this time to get her MFA at USC's prestigious film school.  With eyes on becoming a powerhouse producer like Kathleen Kennedy, Tess began her formal education in storytelling.  She produced every project she could and became known as one of the top producers at USC.  But she was also forced to take writing classes, and there she rediscovered her love, and talent, for the written word.
In 2008 Tess graduated, convinced she could never be the power producer without owning her own material.  She formed, Mythmakers Entertainment, a production company and began writing and developing screenplays which she planned to produce.  In late 2010, on a whim and just for fun, she and her husband/partner decided to make a commercial for Doritos' Crash The Superbowl Competition.  Three months later, their spot "Pug Attack" had aired to 115 million people and they were the creators of the #1 commercial of Superbowl XLV.
But even after all that, she still found it nigh impossible to get a film financed. In the wake of the financial crisis, investment money had dried up and she found herself with several good screenplays and no way to share them with the public.  Tired of having her stories sit on a shelf, she took some good advice and wrote her first manuscript.
She landed her book agent 9 months later, and has never looked back.  To date, she has written 3 novels in the science fiction and fantasy genres with two more in the works.  Expect to see her in print in 2014.
In the meantime, Tess still scuba dives, travels the world, and tries to live each day to the fullest.  She resides off the coast of Southern California with her husband and fur babies (a dog and two cats – all rescues).
Like Me on Facebook!